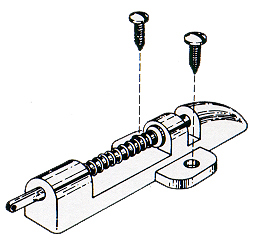 Bomb Release #119
The Fourmost Bomb Release is perfect fun fun fly events. Simply mount the bomb release on the underside of the model with the screws provided and connect the release arm to a servo or elevator arm via a thread or fishing line. Bombs must have a wire loop that can be held by the Bomb Release arm.
$4.95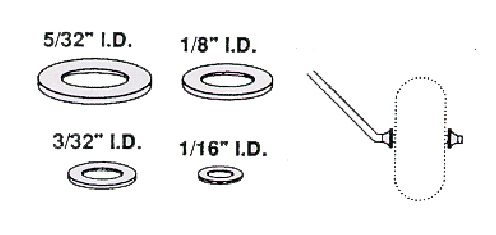 Precision Solder Washers #136
Precision Solder Washers are Brass washers that are constructed with 0.002 inch clearance in the Inside Diameter. This provides the perfect clearance for solder to flow without allowing the washer to tilt too much to one side or another.
Perfect for:
Bearings
Bell Cranks
Landing Gear
Tail Wheels
Sizes (Inside Diameter):
5/32 inch
1/8 inch
3/32 inch
1/16 inch
Price per pack - 12 of each size washer per pack
$3.50
Fuel Line Pullers #146
The Fourmost Fuel Line Pullers thread fuel tubes through bulkheads easily without wasting tubing.
Simply slide the tubes to be fed into the mesh ends of the Fuel Line Pullers. The mesh will cinch and hold the tubes tight as they are being pulled.
Thread the solid ends of the Fuel Line Pullers through the holes in the firewall and draw the Pullers through until the tubes are in position. Price is per set.
$5.50